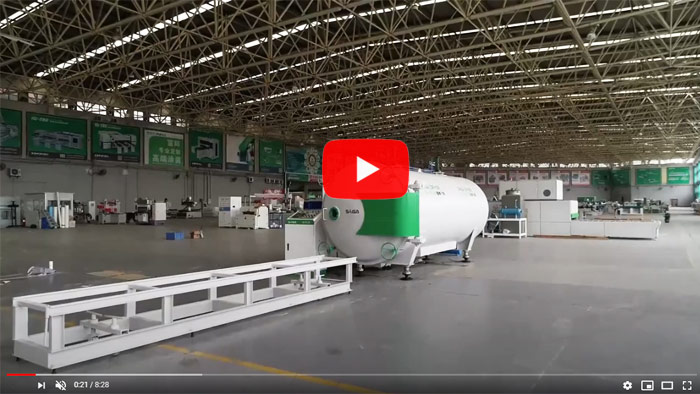 High frequency vacuum wood dryer is a kind of drying machine with low temperature in vacuum situation, smaller but much faster than the conventional kilns. It is suitable for all kinds of wood, from veneer/lamina/board to thick lumber, even heavy timber with large dimension.
For thin piece like veneer or floor board lamina, high frequency vacuum wood drying not only offer short drying cycle but also eliminate the problem of curve or shrink. For thick and hard wood, like Merbau,Mahogany,etc. HF wood dryer brings good drying quality with uniform moisture content, free of split or spark both on surface or inside of wood, short drying time will meet the customer's demand for production.
1.High Frequency Vacuum Wood Drying Principle
High frequency electric field is as the main power for heating, it acts on the wood uniformly. The intensity of the heating depends directly on the moisture content of the wood an the electric field, while the moisture movement depends on the pemeability of the wood and internal pressure radient. In vacuum situation, the boiling point of water is decreased with decreasing pressure. The movement of water through wood increase leading to shorter drying time than can be achieved at atmospheric pressure.
2.Character of SAGA High Frequency Vacuum Wood Dryer
A.SAGA OFFER ONE BUTTON CONTROL TECHNOLOGY
Full automatic drying program within PLC control system for different type of wood, the worker don't need to know too much knowledge about wood drying cook the wood perfect.
B.PRECISE AND RELIABLE MONITORING SYSTEM
High precision and stable monitoring spare will always guide on the machine both for warantee of good drying quality or safety of personal and machine.
C.WELL SELECT SPARE PARTS
We choose high grade stable spare parts which is tested for long time for the machine to make it stable running and problem free.
D.LOGICAL AND SAFE DESIGN
With more than 10 years of experienced engineer, the customer can expect a more logical and humanistic machine that very easy to use, stable running and help a lot in production.
3.Parameter
Model
HFVD30-SA
HFVD45-SA
HFVD100-SA
HFVD120-SA
Overall Dimension (mm)
HF generator
1100*960*1950
1100*960*1950
1250*1250* 2050
1250*1250* 2050
Tank
4200*2150*2000
5700*2150*2000
7300*2300* 2200
9300*2300* 2200
Gross Weight
6.4T
7.3T
10T
11T
Inside Diameter(mm)
Ф1700
Ф1700
Ф1900
Ф1900
Stack Timber Size(mm)
3000*1000*1000mm
4500*1000*1000mm
6000*1300*1300mm
8000*1300*1300mm
Stack Timber Capacity
3m3
4.5m3
10m3
13m3
HF Output Power
30Kw
30Kw
50Kw
50Kw
| | | | |
| --- | --- | --- | --- |
| HF Oscillation | 6.78MHz | Cooling in tank | Condensation system |
| Protection | Overload protection/Wind cooling pressure | Tank Thickness | 12mm |
| Turning Mode | Detection/Filament 2 stage starts/Lose phase protection Variable vacuum capacitor | Stacking Way | Manual |
| Cooling Type | Force wind cooling | Feeding Way | Full automatic |
| Main Spare Part | Schneider/Siemens/Omron | Pressure | 4T/6T/8T |
| Hydraulic System | Taiwan-KOMPASS | Power of vacuum pump | 7.5Kw |
| Temperature | 45-70℃ | Vacuum Range | -0.07- -0.09Mpa |
| Temperature Test | Fiber optic glass temperature sensor,not affected by HF interference | Cooling Type | Stainless steel water-ring vacuum pump |
| Moisture Test | Weighting system at real time | Controll System | PLC full automatic |
| Dewatering | Full automatic | Outside Temperature | 1℃-45℃ |
4.WORKING PROCESS
(1) Load the wood on the feeding cart and place electrode after the layer finish.
(2) Push in to the tank and close the door.
(3) Start the system: vacuum pump starts first, when it reaches the set limit, HF power starts automatically to heat.
(4) When HF heat to the set max limit temperature, HF stop and wait, after temperature falls to the min limit, HF generator starts to heat again, during this cycle, vacuum pressure is always near -0.09Mpa, if it falls below set limit, vacuum pump starts automatically.
(5) When the drying cycle finish, the weight sensor will calculate and stop all the system, drying process finish.
Machine Details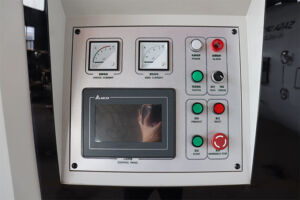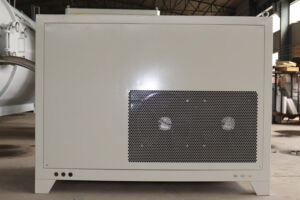 Control Panel                                                                              Cooling Tank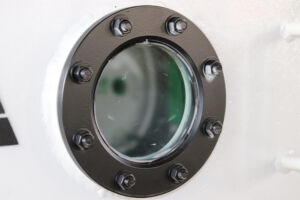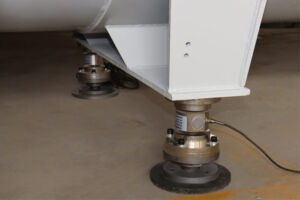 Human Monitor Hole                                                                  Weighing System 
Machine Composition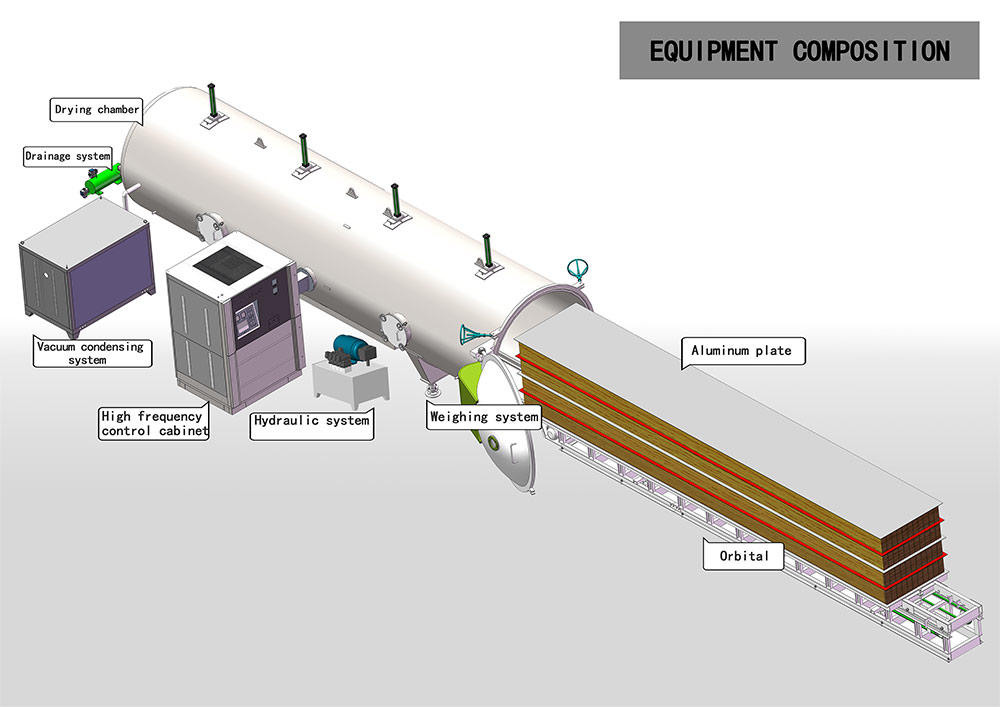 Package and Shiping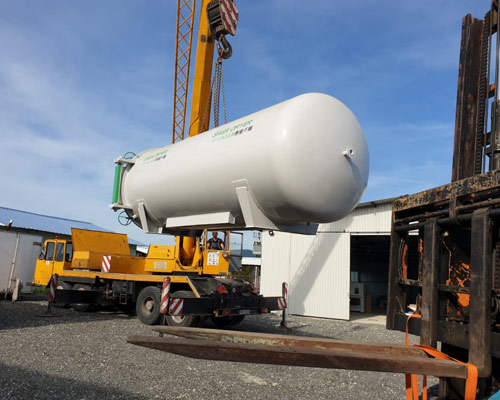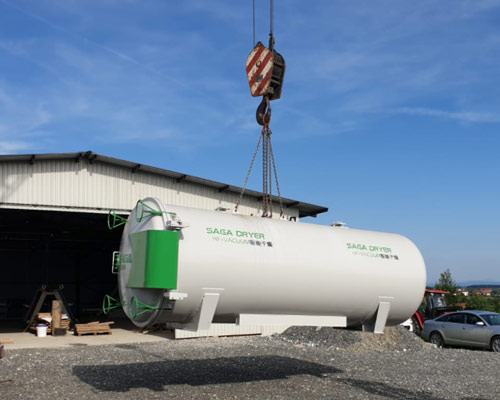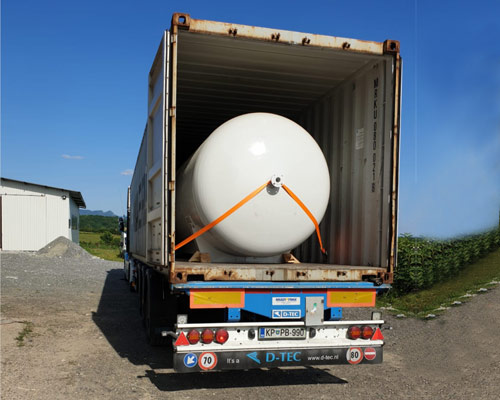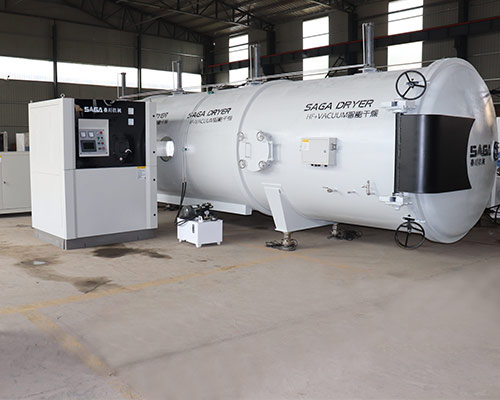 Actual Drying Cases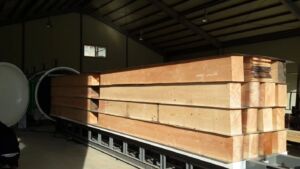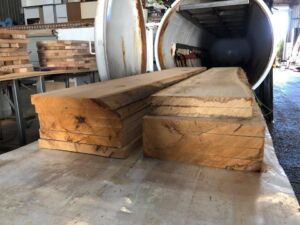 Big Square Beams Drying                                                              Big Slabs Drying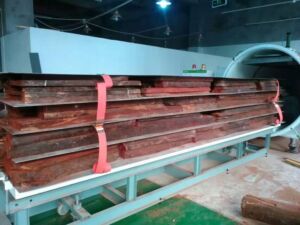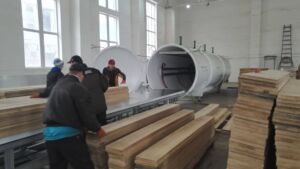 Extremly Hardwood Drying                                                Floor Lamellas Drying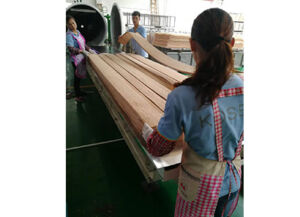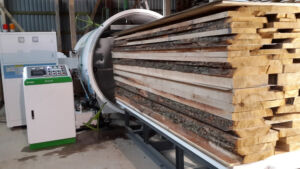 Veneer Drying                                                             Oak Wood Drying
SAGA Customers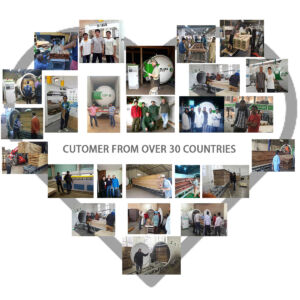 FAQ
1.How to choose the model?
The effective wood stack size of our dryer is 3m,4.5m,6m,8m.You can choose it according to your wood board mainly length.
2.Can I dry big square beams?
Yes,absolutely.HF vacuum dryer is suitable for all kinds of wood,from veneer,floor lamellas to big slabs,big square beams.From softwood to hardwood,HF vacuum dryer performs good.
3.How long does it take to dry a batch of wood?
We need to know your wood type,thickness,moisture to check the drying time.
4.Is it three phase voltage?
Yes,you should prepare three phase power to support machine working.Our standard power is 380v,3phase,but customized voltage is available.
5.How about the power consumption?
It is also calculated by your detailed wood information,like wood type and moisture.
6.How about the payment terms?
T/T,L/C,Paypal,West Union,Credit Card,and so on.
7.Delivery time?
Normally,HFVD45-SA and HFVD120-SA are in stock.It will take around 30 working days for other models.
8.How about the warranty time?
1 year for the whole machine and main spares.